ALL GROUPS HAVE BEEN POSTPONED
I am very sorry, but for multiple reasons I think it the best thing to postpone groups. I truly believe right now it's just too hard of a time! I am worried in this stressful time of so many unknowns most people will just be taking on too much by trying to also commit to a weight loss program. I am having a hard time ethically taking anyone's money. In our recent history we have never had such forced environmental changes, to think many people will also be able to change behaviors that really aren't acutely necessary is really more setting people up for failure.
BUT I know there is a need for help! Since through April I will not be in the Accountability Groups, I will then be able to work more in WPWI. As such please go there, it is our free main group! Participate in April's theme #awesomeApril    Is April actually going to be awesome statistically speaking no, let's be honest. BUT, this hashtag is about keeping our heads held high, not letting out fear get the best of us!
Second note: please feel free to tag me!  I am going to be in WPWI more than normal, but I also am trying to pull my weight (pun intended) in this crisis. I have decreased my Obesity Medicine hours, and am adding back some traditional Family Medicine services for my community. As such it will kind of be hit or miss with how much I am there!
Third Note: I am hoping to restart groups in May, but kind of think it likely will end up being June.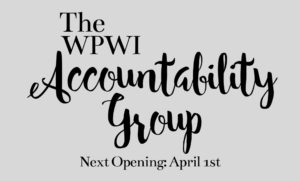 WPWI Accountability Group
2020 hasn't quite been going how we all expected it. As this is a highly unpredictable year we will go ahead and continue our normal accountability group, which is now called "WPWI Accountability Group-Standard." Due to the unpredictability of the next couple of months, we will delay the start of the more comprehensive "Gold" System.
*The start of the Gold plan depends on my availability, as I am allocating more time towards the possible increase in Family Medicine community needs. In other words, if it looks like I am needed more to help, the Gold group will be delayed.*
[Note: No it was not an accident the two are called "Gold" and "Standard" 😉 #dorkyphysician]
WPWI Accountability Group - Standard
Starts April 1st, goes for 3 months.
$200 per month refund upon completion of "reward bonus posting."
The reward program is designed to be EASY, it is an incentive to keep you involved in the group.
After refund this program equates to about $50 per week
WPWI Accountability Group - Gold
4 Month Program
$417.50 per month in Reward Posting bonus available
Possible start date May 1st, start depends on future outbreak situation.